Talend is a data integration and management software company that offers applications for cloud computing, big data integration, application integration, data quality and master data management. The platform enables personnel to work with relational databases, Apache Hadoop, Spark and NoSQL databases for cloud or on-premises jobs. Talend data integration software offers an open and scalable architecture and can be integrated with multiple data warehouses, systems and applications to provide a unified view of all data. Its code generation architecture uses a visual interface to create Java or SQL code.
In September, Talend was acquired by Thoma Bravo for $2.4 billion, turning Talend into a private company. The company plans to continue investing in its cloud capabilities and strengthen its integration platform.
Talend Data Fabric offers data integration and management tools including extract, transform and load, data quality and data trust functionalities. It enables workers to collect data across systems, govern it, transform it to new formats, improve its quality, and share it with internal and external applications via application programming interface support. The platform can ingest and integrate data from various sources — including applications — and can also support batch, real-time and big data use cases.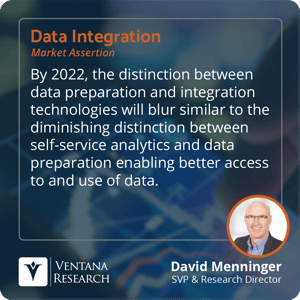 Talend recently announced enhancements to its Data Fabric platform, including a self-service API portal for data professionals, integrations with cloud intelligence platforms (Cloudera, Snowflake and others), collaborative data governance capabilities, and private connections between Amazon AWS and Microsoft Azure to ensure data security.
As organizations begin to use more applications and systems, data can become increasingly siloed and inaccessible beyond its initial scope. The data can be stored in multiple on-premises locations as well as numerous public or private clouds in a wide variety of formats — file systems, relational databases, SaaS applications, etc. As the amount and sources of data increase, it becomes difficult for organizations to quickly ingest, integrate, prepare and analyze that data. By the end of 2022, the distinction between data preparation and integration technologies will blur, similar to the diminishing distinction between self-service analytics and data preparation, enabling better access to and use of data.
It is important for data to be clean, complete and compliant for analysis. Our Data Preparation Benchmark Research shows that accessing and preparing data continues to be the most time-consuming part of making data available for analysis. This can potentially slow the organizational functions which depend on analytic results. Using a platform such as Talend Data Fabric to manage the data life cycle in a unified environment can help in eliminating data silos and provide faster access to usable data. It also offers built-in data quality, data preparation and data governance capabilities, along with machine learning automation to improve data quality.
I recommend that IT organizations seeking to grow data sources and systems evaluate the capabilities of Talend to simplify and automate data integration and management. Talend offers more than a thousand built-in connectors and components for leading applications and environments such as Oracle and SAP as well as cloud environments such as AWS, Azure, Google Cloud and Snowflake. It also offers cloud-based technologies such as containers with Docker and Kubernetes, and advanced analytics with Databricks, Qubole, Spark and serverless computing.
Regards,
David Menninger