We are happy to share some insight on BOARD drawn from our Value Index research, which assesses how well vendors' offerings meet buyers' requirements. Earlier this year we
published the Ventana Research Value Index: Analytics and Business Intelligence 2019, the distillation of a year of market and product research efforts. We then developed three additional Value Indexes on Analytics and BI focusing on mobile, embedded and collaborative capabilities. Because each is a critical aspect of modern business intelligence, we developed specific criteria for each in order to provide an in-depth look at features geared specifically to mobile, embedded and collaborative use.
In all of our Value Indexes we utilize a structured research methodology that includes evaluation categories designed to reflect real-world criteria incorporated in a request for proposal (RFP) and vendor selection process for analytics and business intelligence. We evaluated BOARD and 14 other vendors in seven categories, five relevant to the product (adaptability, capability, manageability, reliability and usability) and two related to the vendor (TCO/ROI and vendor validation). To arrive at the Value Index rating for a given vendor, we weighted each category to reflect its relative importance in an RFP process, with the weightings based on our experience and on data derived from our benchmark research on analytics and business intelligence.
These Value Indexes assessed BOARD's Version 10.3, released in 2018. BOARD is one of five vendors evaluated that offer a combination of planning and simulation capabilities coupled with interactive discovery, reporting and dashboarding. This combination of capabilities helped BOARD earn an overall fifth-place ranking in the Value Index. The product uses an in-memory architecture to support the read/write capabilities necessary for planning applications and to enhance performance. The in-memory architecture requires data to be imported into BOARD for analyses. The product is available for on-premises deployments or as a cloud-based service.
The company ranked first in the Validation category with readily available case studies and customer references. BOARD's product ranked second in Manageability based on good capabilities for both IT administration and business administration of its systems. In Usability, BOARD ranked fifth with capabilities targeted to specific personas in both lines of business and IT. In the Capability category it is one of five products in the Value Index to offer robust interactive planning analyses.
MOBILE ANALYTICS & BI
BOARD uses an HTML5-based approach to deliver its mobile capabilities. With this approach customers can develop once and deploy to any device. However, this product lacks some of the typical mobile experience aspects such as location awareness and finding and installing mobile applications through an application store. BOARD's design allows mobile users to view visualizations and displays created elsewhere, but the mobile versions do not exploit mobile platform capabilities such as native notifications. Tablet users will probably find the mobile experience more pleasing than phone users since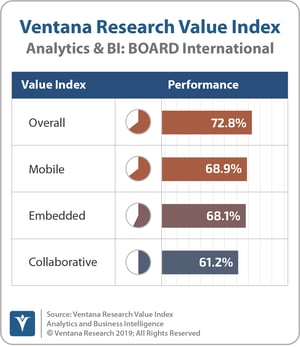 it will be more similar to the desktop or laptop experience. As a result, BOARD is in the middle of the pack with respect to mobile support and use with an overall seventh-place ranking.
BOARD could improve its mobile product with more mobile platform-specific capabilities such as notifica­tions, location awareness and a better installation and management experi­ence; also, more collaboration capabili­ties would increase the value of the analyses BOARD provides.
EMBEDDED ANALYTICS & BI
BOARD uses an in-memory database engine and requires a Windows server. The in-memory server supports a hybrid option that can retrieve data values on-demand rather than pre-loading all data, enabling it to deal with larger databases than would fit in memory.
The product offers good customization but needs a more complete set of APIs and more granular user-interface objects for better embedded usage. BOARD's transaction support provides integration with other applications and business processes. Command-line operations also can enable a measure of integration.
COLLABORATIVE ANALYTICS & BI
BOARD has several capabilities that support collaboration. Users can share displays either as a static screenshot or as a live document. They can send documents with or without filters, which can be used to draw attention to a specific subset of data or situation. The product's chat feature supports discussion groups, accommodating multiple chat sessions for different groups, and the dialog can include different analyses or documents. Users can make notations in documents and associate them with tables or charts in the document.
We also rate BOARD highly in its ability to communicate information among users in its dashboards. Since BOARD supports write-back the database enables tracking tasks and decision-making, though it is not inherently designed to support these functions.
More notification functionality that delivers alerts to individuals and the ability to track tasks and decisions to completion would help facilitate collaboration among users. Also, incorporating some social media concepts such as likes and ratings would help users better understand which content is most valuable.
BOARD could further improve its product with more predictive analytics capabilities to complement the driver-based analyses it offers. BOARD's lowest ranking is in the Adaptability category where it places ninth. Better APIs and customization capabilities would help improve its score in this category. Since this analysis BOARD has released its Board 11 platform, which significantly improves its capabilities, manageability, reliability and usability with a new user experience and support for larger volumes of simple and complex data.
This research-based index is the most comprehensive assessment of the value of analytics and business intelligence software in the industry. Technology buyers can learn more about how to use our Value Index by clicking here and included vendors that wish to learn more can click here. Read the report here.
Regards
Ventana Research