Our benchmark research into the next-generation contact center in the cloud shows that organizations are supporting more and more channels of engagement; an emerging one is video. Adoption rates suggest that use of this technology for customer service is still in its early days, but as more consumers make video calls using mobile apps such as FaceTime, WhatsApp and Skype, we expect adoption rates and usage to increase. During two recent briefings I learned that Pitney Bowes has built a portfolio of products to support various uses of video.
The company positions these products in its customer engagement portfolio. Its overall aim is to deliver "relevant and engaging interactions at every touch point," especially digital and video, and orchestrate delivery of omnichannel experiences. Similar to many software vendors, Pitney Bowes bases its portfolio on a single platform, Engage Communication Suite, which has tools to support common services used by the other applications. These include tools to support different types of users, common internal tools such as security, composition and conversation, and interfaces to different types of servers (such as LDAP), including communication servers such as email, fax, print and instant messaging. The portfolio also includes tools that support the different stages of designing new content, including authoring and publishing of new document templates, review and approval of new templates, and a repository in which to store templates.
Engage Communication Suite supports four other products: EngageOne Digital Designer, EngageOne Digital Delivery, EngageOne Digital Self Service and EngageOne Video.
EngageOne Digital Designer includes tools that help all levels of users design digital content for email and instant messages. It is browser-based so that anyone can use it anywhere and includes drag-and-drop design tools with which users can design content once and have it repurposed for delivery on any device. Users can import content from existing sources and built-in templates to create content such as embedded video that is visually engaging for customers. It also includes analytics tools to monitor and assess who opens what and how they use the content.
EngageOne Digital Delivery manages the delivery of content to supported channels, including email, cloud-based mailboxes and mobile apps. It includes tools to manage content delivery, including the time, format and channel of delivery, which ensures customers get consistent messages regardless of channel. The system archives content so users can see what any customer received. Analysis tools track delivery, opens, clicks and bounces so users can see in detail the success of any campaign.
EngageOne Digital Self Service enables organizations to transform existing portals to provide customers with consistent, unique and personalized experiences tailored to their profiles, purchase histories and billing needs. For example, a bill could include an embedded video clip that explains how the bill was calculated.
In my view, the most significant product is EngageOne Video, which in 2015 won a Ventana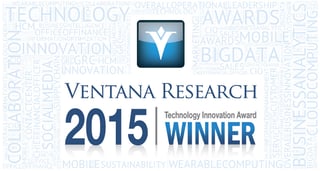 Research Technology Innovation award as one of the most exciting uses of voice-powered video. Essentially, customers receive a link to "speak" to a customer support department. Clicking on the link activates a fictional on-screen character that responds to questions and information provided by the user. The system recognizes what the users say, interrogates other systems for information and delivers personalized responses. The program follows a rules-driven process designed to lead to the most efficient resolution of the caller's issue, for example, answering queries about an invoice. The results are highly personalized experiences and more issues resolved on the first attempt. Since its first release, Pitney Bowes has made several improvements that make it easier to create user-specific videos with a library of video clips and tools to extract user-related data to personalize the video. It also renders on more devices – desktops, smartphones and tablets – than before and can be based on-premises or in the cloud. I recall an early demonstration that I still cite as an example of why others should take a careful look at EngageOne Video, as it was the best customer experience I have encountered.
Taken together, these products help organizations
respond to shifts in how consumers engage with each other and organizations, specifically, the increased use of digital technologies such as text-based engagement, mobile apps and video. Indeed, our recent research into the adoption of contact centers in the cloud finds that more (46%) organizations are anticipating that, over the next two years, they will offer digital self-service as a means of differentiating themselves from competitors. This change not only requires organizations to support those digital channels but to provide an engaging experience that meets customer expectations.
Pitney Bowes is best known for its postal mail, data management and location intelligence products and services. In my view, getting digital right requires supporting new channels, personalizing experiences and making them more visual. Pitney Bowes combines its data management, location intelligence and these new communication technologies to help organizations in all three regards. I therefore recommend that all organizations that plan to make engagement more digital assess how this combination of systems can help achieve those objectives, especially the adoption of video.
Regards,
Richard Snow
VP & Research Director, Customer Engagement
Follow Me on Twitter and Connect with me on LinkedIn