At the end of last year, I wrote about Interactive Intelligence's release of a new service, PureCloud. It was the company's first step into the multitenant cloud computing market, using Amazon Web Services and aimed at small-to-midsize contact centers. To help companies understand the different cloud-computing models, I provided answers to Interactive Intelligence questions on the advancements of these approaches for business.
Since then the new CMO, Jeff Platón, has led the company's overall change to focus on customer engagement, in particular in omnichannel management. From a product perspective, its strategy continues to be built around supporting three products: CIC, its established on-premises product; CaaS, its proven single-tenant cloud product; and PureCloud. The PureCloud platform provides a distributed cloud architecture, a common user interface and integration capabilities to a variety of third-party products. It is also the foundation of three other products: Collaborate, Communicate and Engage.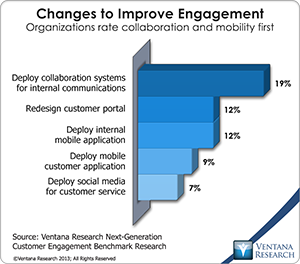 Our research into next-generation customer engagement finds that one of the biggest challenges companies face in trying to improve customer engagement is the number of employees involved handling customer interactions. It also shows that in an effort to overcome this challenge, companies are planning to deploy collaboration and mobile applications. PureCloud Collaborate includes both. It provides real-time chat, videoconferencing and desktop sharing. It enables users to find people, documents and chat histories, and groups to share information and work together, for example in editing documents. By supporting mobile devices it allows users to carry out these tasks away from their desks. The core of PureCloud Communicate is an advanced IP-based PBX that supports auto-attendant (automated transfer of calls to a selected extension), call recording, speech recognition and unified messaging. Used in combination, Collaborate and Communicate enable employees at multiple location, including mobile ones, to work together on customer interactions.
Interactive Intelligence recently announced general availability of PureCloud Engage, the third product running on the platform. Engage supports a range of capabilities including multichannel interaction routing, speech-enabled IVR, outbound campaign management, workforce optimization, CRM integration, reporting and data analytics. Each of these is still in early stages of development, but the company says that it plans to develop them quickly to support omnichannel customer engagement. As I have written on several occasions, achieving such a goal is not easy for enterprise companies and vendors alike. For enterprises it is a necessary goal because done properly it can deliver the kind of engagement consumers have come to expect. and as it develops, PureCloud should enable companies to meet those objectives.
To give its customers the broadest choice for deployment, especially those that are skeptical about cloud computing, Interactive Intelligence must continue to support three product lines. CIC and CaaS are mature products with extensive capabilities, but they will need further development to keep up with market expectations. I believe that cloud-based services such as PureCloud are the future because they address key company objectives: more manageable costs, less demand for in-house, highly skilled IT resources, faster deployment, quicker delivery of business benefits and the ability to innovate in customer engagement. Innovation is, I believe, the most important because as the Internet of Things digitally enables more kinds of devices to be connected, it is likely to disrupt what have been stable processes – paying for goods and services, using credit cards, travel, self-service and engaging with companies. This in turn will drive greater convergence between marketing, sales and service. I therefore recommend organizations planning for this future should assess how Interactive Intelligence PureCloud can help in those efforts.
Regards,
Richard J. Snow
VP & Research Director